Deciding to buy a desktop computer, we can choose very well equipped with equipment at a price much lower than the laptop. The advantage is the ability to expand and replace any of the elements and the perfect fit of equipment in its later use.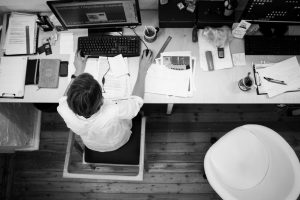 Casing
Computers with large enclosures are used in computers offer the possibility of later expansion (eg. An additional drives or a large graphics card). Increased housing also provides better airflow and cooling, therefore, is a must in your computer to the player and powerful workstations.
Desktop computers, with mobile processors, can be packaged in a very small enclosure, which will look great on your desk.
Power Supply
Completing a set of computer often forget about a good power supply. Its power must be selected to configure the computer (for the future expansion). Take the power supply reputable company. Saving on the power supply, you may end up further problems with the lack of stability of operation of your computer at high loads ..
The amount of RAM
RAM is a key parameter when it comes to work with multiple applications simultaneously and demanding programs. For this reason it is useful to equip new computer at least 8 GB or more of RAM. A large amount of RAM reduces user waiting while a variety of tasks on your computer. The best choice is a RAM memory with high clock speeds and the shortest access time.
Graphics Card
External graphics card will be required on the computer for the player and for those operating in the graphic programs. Offer graphics cards today is very diverse, and different models of the manufacturer (even with one series), can vary considerably.
Performance is quite difficult to determine based on the timing cards, and for this reason, the choice of graphics card, you should be guided by the results of the tests (benchmarks). The most popular today are graphics cards from Nvidia.
If you intend to use the computer only to browse the Internet and work with simple applications and do not play games. We can save on the graphics card and select the integrated model. It offers very low yields and is not suitable for playing games, but it will allow you to watch HD movies and use the Aero interface in Windows.
The processor
Processor is a key element affecting the performance of computer calculations. If you do not want to wait for the computer to process the data, select powerful processor, for example, a series of I5 or I7. Slightly less popular processors from AMD.
Individuals with lower requirements, may choose to I3 processor, and even on older models of the Intel Core 2 Many cheap computers equipped with the energy-efficient – low cost processor family Intel Atom.
They are cheap and offer the performance to allow the inclusion of most programs. Of course, the better choice is to buy a more powerful processor that will work not only today, but well into the future.
Hard drive
Traditional hard drives HDD go to rest, due to the lower and lower prices of SSDs. When buying a new desktop computer, it's best to invest in SSD with a minimum capacity of 128 GB. If we use large amounts of data, such as photos or videos, and do not care for high performance, we can collect an extra HDD with large capacity. HDD on which you install the operating system, will be a bottleneck, which is why investment in SDD is a good choice.
Motherboard
This element, which also has a large impact on PC performance. Select it depending on the computer chassis (standard boards are the size ATX), and from that in which applications will use the equipment. Most board will make that we will not have to make difficult choices, due to the fact that do not fit into the individual components. It also select a disc that offers the ability to overclock the processor.
And you? What to look for when buying a desktop computer?